Related Links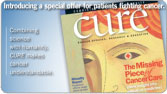 ---
The US Oncology Network
The US Oncology Network
Florida Cancer Affiliates is united in healing with The US Oncology Network, one of the nation's largest community-based cancer treatment and research networks focused on advancing cancer care in America. As an affiliate of The US Oncology Network, Florida Cancer Affiliates is connected nationally with more than 1,000 physicians and 10,000 cancer professionals.
Physicians affiliated with The US Oncology Network are committed to advancing the quality, safety, and science of cancer care to improve patient outcomes. Our pioneering, integrated approach to cancer care means that each patient's cancer care team — medical oncologist, radiation oncologist and surgeon — collaborates to ensure delivery of high quality and advanced care to patients in the communities where they live.
The US Oncology Network is supported by McKesson Specialty Health, a division of McKesson Corporation focused on empowering a vibrant and sustainable community patient care delivery system to advance the science, technology and quality of care. For more information, visit www.usoncology.com.
For Patients