Related Links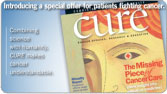 ---
Expert Care for Your Patients
When you refer your patient to Florida Cancer Affiliates, you can expect expert compassionate and personalized care from our clinical team. We are dedicated to providing the best and most advanced diagnostic and treatment services for your patients with cancer and disorders of the blood.
Our practice of skilled physicians offers patients a consultative, multi-specialty team approach. While our focus is always on the patient, we understand the importance of keeping you, the referring physician, up-to-date on your patient's progress and treatment.
We offer our referring physicians:
Quick access to the practice - every effort will be made to see your patient within 48 hours
Medical Oncology, Hematology and Radiation Oncology
10 board-certified physicians
5 sites of service with convenient parking
Lab and diagnostic results
Diagnosis and treatment plan updates
Physician consultations
Cutting edge clinical research trials with US Oncology
On-site retail pharmacy
We are dedicated to finding new and better ways to treat cancer and blood disorders through research and clinical trials. We access clinical trials through The US Oncology Network, one of the nation's largest community-based cancer treatment and research networks dedicated to cancer treatment and clinical trial research, specializing in Phase I-IV clinical trials.
Successful clinical trials have led to 50 anti-cancer drugs now approved by the FDA. At any given time, we have more than 30 clinical research trials open for enrollment.
If you need more information about our clinical trials program, or if you have a patient who might meet eligibility requirements for a specific research study, please see our Clinical Research & Trials section.
Our staff also includes Practice Liaisons to help facilitate the referral process. For more information on our Practice Liaisons, contact us at one of our locations.
For Medical Professionals