Related Links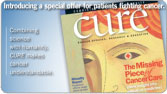 ---
Clinical Trials & Research
Advancing Cancer Care through Clinical Trials
Florida Cancer Affiliates has embraced clinical trial research as a critical component of community-based care for our patients with cancer or blood disorders. Participating in clinical trials shows us what works (and what doesn't) in medicine. Plus, they are the best way for our doctors to learn what is safe and effective in treating diseases such as cancer.
Clinical research offers us access to new investigational drugs that are not always available to the general public, reduces treatment-related side effects and introduces new methods of care for our patients.
We access clinical trials through our affiliation with US Oncology Research, one of the nation's largest healthcare networks dedicated to cancer treatment and clinical trial research, specializing in Phase I-IV clinical trials. This affiliation allows us to provide patients in the communities that we serve with, access to many of the most current and innovative clinical trials available. US Oncology Research has contributed to the development of 50 anti-cancer drugs approved by the FDA.
If you would like more information, please ask your physician about available clinical trials that might be suitable for you.