Related Links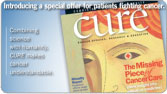 ---
Is a Clinical Trial Right for You?
Is a Clinical Trial Right for You?
Below is a list of questions that you might have when discussing clinical trials with your Ocala Oncology/Florida Cancer Affiliates physician. If you express an interest in a clinical trial, we will explain the research trial process, and address any questions you might have prior to starting any research procedures in a process known as Informed Consent.
The Informed Consent discussion should address many of the questions below, and is an opportunity for you to have your questions answered prior to deciding to participate in a clinical trial.
How will the clinical trial help me?
What other treatment options are available?
What side effects might I experience?
Are there possible long-term risks?
How will participating in this study affect my daily life?
Who is sponsoring this study?
What kinds of treatment, medical tests or procedures will I have during the study? How often?
Where will I receive my treatment?
Who will be in charge of my care?
How long will the study last?
Will I have to pay for any treatments, tests, or other charges?
Will my health insurance cover treatments and tests I receive as part of this study?
How am I protected?
What kind of follow-up care will I receive after the study?
When do I have to make a decision about participation?
If you have any questions or need more information about your treatment or research studies currently in progress, please let us know.
For more information on clinical trials, visit The US Oncology Network Clinical Trials page or the National Cancer Institute.