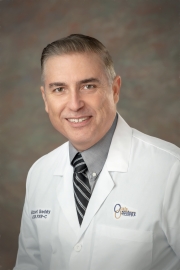 Specialties

Languages
English
Primary Location
3130 SW 32nd Avenue
Ocala, Florida 34474
Phone Number
352.732.4032
Michael Reddy, MSN, APRN, FNP-C
College
• South University- MSN • Grand Canyon University- BSN • College of Central Ocala- ADN
Board Certification
American Association of Nurse Practitioners - AANP
Advanced Practitioner Society for Hematology and Oncology
Currently licensed to practice in Florida.
Affiliations
Advent Health Hospital
Ocala Regional Medical Center
West Marion Hospital
Biography
Michael started his nursing career in 1996, working as an agency travel nurse, while also working at Citrus Memorial on the post-surgical floor. Michael then spent the next 23 years working at Ocala Regional Medical Center and West Marion Community hospital in various roles; Cardiac Step-Down unit, Interim Director, Charge Nurse, Open-Heart Intensive Care, Trauma Intensive Care, Outpatient Surgery, and Post-Anesthesia Recovery Unit. Starting with Florida Cancer Affiliates in November 2020.
Michael is a native Floridian originally from Jacksonville, FL., however, he moved to Cape Cod Massachusetts at the age of 10 where he lived for most of his childhood, eventually returning to Ocala 30 years ago.
Locations & Physicians
Search