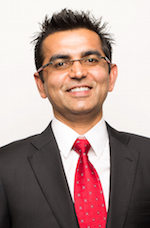 Specialties
Medical Oncology
Hematology
Languages
English
Primary Location
3130 SW 32nd Avenue
Ocala, Florida 34474
Phone Number
352.732.4032
Ketan Doshi, M.D.
College
Baroda Medical College M.S. University of Baroda, India
Internship
Our Lady of Mercy Medical Center, New York
Residency
Our Lady of Mercy Medical Center, New York
Fellowship
University of Minnesota, Minneapolis, MN
Board Certification
American Board of Certified Hematology
American Board of Certified Medical Oncology
Biography
Professional Memberships
American Medical Studies Association (AMSA)
American Society of Clinical Oncology (ASCO)
American Society of Hematology (ASH)
Hospital Privileges
Ocala Regional Medical Center (Active)
Advent Health Hospital (Active)
West Marion Community Hospital (Active)
Research Interests
Lung, Head, Neck, Breast Cancer
Publications
Yang, AS, Doshi, KD, and Issa, J.-P. DNA methylation changes after 5-aza-2'-deoxycytidine therapy in patients with leukemia. Cancer Res. 2006 May 15;66(10):5495-503.
Yang, AS, Doshi, KD, Estecio MR and Issa, JP. (2004) A simple method for estimating global DNA methylation using bisulfite PCR or repetitive DNA elements. Nucleic Acids Res. 2004 Feb 18;32(3):e38.
Rizwan Romee, Ketan Doshi and Dan Kaufman. Development of Diverse Hematopoietic Cell Populations from Human Embryonic Stem Cells. (submitted).
Ketan Doshi, Claudio G. Brunstein, Qing Cao and John E. Wagner Risk Factors Associated with Graft Failure After Umbilical Cord Blood Transplantation: A Single Center Analysis in 539 Patients. (ASBMT 2008)
Personal
Dr. Doshi enjoys reading, traveling, hiking and participating in various religious and social activities.

Locations & Physicians
Search