Related Links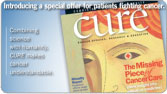 ---
Myelodysplastic Syndromes
Myelodysplastic syndromes are a group of diseases in which the bone marrow does not make enough healthy blood cells.
Myelodysplastic syndromes are diseases of the blood and bone marrow. Normally, the bone marrow makes blood stem cells (immature cells) that develop into mature blood cells over time. A blood stem cell may become a myeloid stem cell or a lymphoid stem cell. The lymphoid stem cell develops into a white blood cell. The myeloid stem cell develops into one of three types of mature blood cells:
Red blood cells that carry oxygen and other materials to all tissues of the body.
White blood cells that fight infection and disease.
Platelets that help prevent bleeding by causing blood clots to form.
Cancer Care Centers of South Texas have been recognized nationally for expertise in the diagnosis, treatment and research of myelodysplasia and is designated as a "Center of Excellence" by the The Myelodysplastic Syndromes Foundation.
Lo que usted necesita saber sobre síndromes mielodisplásicos.