Related Links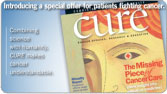 ---
Florida Cancer Affiliates' President Lawrence Hochman Receives Masters Degree In Health Services Administration
Jun 20, 2016
Lawrence Hochman, DO, MHSA (Masters in Health Services Administration), FACRO (Fellow of the American College of Radiation Oncology), was recently awarded a Masters degree in Health Services Administration from Lake Erie College of Osteopathic Medicine.
Lake Erie College of Osteopath Medicine's MHSA curriculum offers an 18 month Masters Degree program with a maximum of 50 credits. There are 10 core courses (for 30 credits) which are required to be taken by all students. The students also take three electives in areas of health institution administration and public health services. Dr. Hochman also had to submit a request for validation for his healthcare administration experience and complete a Master's thesis project or a capstone experience. Dr. Hochman graduated with a 4.0 GPA.
Dr. Hochman was recently awarded certification in the new SpaceOAR program. Dr. Hochman is helping to pioneer a new tool aimed to protect prostate cancer patients from the negative effects of radiation therapy. Dr. Hochman was one of the first in Florida to inject a patient at FCA with SpaceOAR® hydrogel, the first FDA cleared spacing device to protect the rectum in men undergoing radiation therapy for prostate cancer. At this writing 30 patients have benefited from this procedure at FCA.
Return to News