Related Links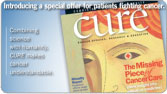 ---
Florida Cancer Affiliates' Physicians Honored For Contributions to Clinical Research
Jan 27, 2016
US Oncology Research, one of the largest community-based oncology research programs in the U.S. specializing in oncology clinical trials, has honored two physicians from Florida Cancer Affiliates (FCA) for their contributions to cancer research by inducting them into the organization's prestigious Centum Club. The two medical oncologists, Thomas Cartwright, M.D., and Craig Reynolds, M.D., earned admittance into the elite club by enrolling more than 100 patients into US Oncology Research clinical trials. Meeting enrollment goals is a huge challenge in clinical research, so accruing more than 100 patients is a significant achievement. Florida Cancer Affiliates is a leading provider of advanced cancer care services throughout Florida and a practice in The US Oncology Network. Both physicians provide services from the FCA state-of-the-art treatment center in Ocala.
"Clinical trials are an essential part of our commitment to provide cancer patients convenient access to the latest and most advanced therapies and treatment options," said Dr. Cartwright, principal investigator at FCA Ocala. "Providing these cutting-edge treatments close to home allows patients to receive care in a familiar, comfortable setting where they have the support of family and friends during a very difficult time. This encourages optimal outcomes and provides a better patient experience."
Through its affiliation and collaboration with US Oncology Research, Florida Cancer Affiliates has established a world-class research program, leading the way to better care for patients throughout Florida and across the nation. By participating in investigational trials that test new drugs, unique approaches to chemotherapy and radiation therapy, or various combinations of treatments, the FCA research program helps drive progress and advance cancer treatment while giving patients the opportunity to receive promising new therapies not yet available to patients outside clinical trials.
"Clinical trials are the first step in bringing exciting new advancements from the laboratory to the patient," said Dr. Reynolds, also a principal investigator at the FCA Ocala location. "We have made enormous strides in treating cancer and improving quality of life that are the direct result of clinical trials. It is very rewarding to know I can offer my patients these novel treatments that are also advancing our efforts to conquer this disease."
Florida Cancer Affiliates is highly regarded among the medical community as a leader in cancer research and is a regional resource for referring physicians who want their patients to have access to the very latest treatment options. The practice takes pride in being an integral part of US Oncology Research, which has enrolled more than 62,000 patients in nearly 1,500 clinical trials. This nationwide group of more than 900 experienced investigators has played a role in nearly 60 FDA-approved cancer therapies, nearly one-third of all cancer therapies approved by the FDA to date.
"I am extremely proud of the strong, ongoing commitment our practice has made to clinical research," said Fadi Nakhl, M.D., principal investigator at the FCA Tampa Bay Trinity Cancer Center. "Developing a first-class research program requires a large financial investment, as well as a shared vision to bring new therapies to patients battling cancer. It is a great privilege to participate in these groundbreaking studies that lead to exciting new treatments that improve the lives of those touched by cancer."
Return to News