Related Links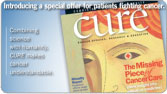 ---
Florida Cancer Affiliates Names New Executive Director for Three Florida Divisions
Sep 10, 2015
Florida Cancer Affiliates (FCA), a leading provider of advanced cancer care services in Florida and a practice in The US Oncology Network, has named a new executive director to lead its Tampa, North Florida, and Ocala treatment centers. John E. Brown, a healthcare professional with extensive experience managing large multi-specialty medical facilities, started with the practice in July and is based at the FCA administrative offices in New Port Richey.
"We are excited to bring John's energy, expertise and new ideas to our practice," said Lawrence Hochman, DO, FACRO, practice president, Florida Cancer Affiliates. "In his new role, John will focus on providing leadership and operational direction for our clinics, as well as ensuring financial performance. His extensive experience running several large medical facilities will be a great asset to us as we continue with our mission of providing patients compassionate, quality care and convenient access to leading-edge, evidence-based treatments."
Prior to joining Florida Cancer Affiliates, Brown had his own consulting firm where he provided operational management services to various types of medical facilities. Before that, he was Chief Executive Officer of Medical Specialists of the Palm Beaches, a 78-physician multi-specialty practice with 30 locations based in Lake Worth, Fla. Preceding his work in Florida, he was Chief Executive Officer of Cardiology Consultants, a 33-provider cardiology group in Virginia with multiple treatment centers. He also spent 13 years as President/Chief Executive Officer of Blair Medical Associates, a large multi-specialty group in Altoona, Pa. At all three practices, he launched many new initiatives that improved practice efficiency and quality care, increased service offerings and enhanced revenue cycle management.
"John brings a tremendous amount of experience, expertise and energy to FCA," said Maureen McGrath, executive director of Virginia Oncology Associates, another practice in The US Oncology Network. "My team and I eagerly welcome him to The US Oncology Network."
Brown holds a Master's Degree in Business Administration from Clarion University of Pennsylvania and a Bachelor of Science Degree in Health Planning and Administration from Pennsylvania State University, where he was also an adjunct faculty member. He is Board Certified by the American College of Medical Practice Executives, having earned the Certified Medical Practice Executive (CMPE) credential that validates and verifies expertise and experience in medical practice management.
"The great reputation of Florida Cancer Affiliates is well known in the area," said Brown. "I look forward to bringing the leadership and process improvement tools to provide the ultimate experience for our patients and referring physicians."
Return to News