Related Links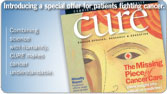 ---
Patient Resources
Studies have shown that support groups are very beneficial for the survival and quality of life of cancer patients and their families or caregivers. Florida Cancer Affiliates is pleased to provide this resource in our ongoing support groups for patients and their families.
Members of these groups support each other, identify with one another, and gain some added strength from a relaxed comfortable group setting. During these meetings, participants are encouraged to vent their feelings, share their experiences, and offer hope for now and the future. Members continually experience many healing connections and positive experiences during this important time together.
All our support groups are led by a licensed clinical social worker or similarly qualified cancer care professional. Our support groups meet at Florida Cancer Affiliates, 3611 Little Road
Trinity, FL 34655. Call 727-372-9159, for more information.
For Patients