Related Links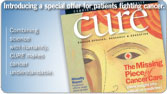 ---
Florida Cancer Affiliates Acquires Radiation Oncology Facility in Panama City
Aug 4, 2015
Panama City, Fla. – Florida Cancer Affiliates (FCA), a practice in The US Oncology Network, acquired a radiation oncology facility in Panama City. The acquisition allows the medical oncologists of FCA to offer a full range of both medical oncology and radiation oncology treatment to patients in North Florida.
"We thrive on offering optimal cancer care to our patients," said Shawn Gallagher, practice administrator, Florida Cancer Affiliates. "The addition of radiation oncology in North Florida brings patients the opportunity to receive more comprehensive, integrated cancer care in the convenience and comfort of a community setting."
The 23 physicians with Florida Cancer Affiliates use the latest technologies and drug therapies to offer patients advanced treatment options in 14 locations throughout Florida. This comprehensive care includes outpatient treatment and diagnostic facilities providing chemotherapy; hematology services; radiation therapy including stereotactic and PET/CT imaging; clinical research; pharmacy and laboratory; financial counseling; and patient support services.
Florida Cancer Affiliates offers the following types of radiation therapies and procedures:
External radiation
Radiation treatment for skin cancer
Electron beam therapy
Three dimensional conformal therapy
Intensity modulated radiation therapy (IMRT)
Stereotactic radiation therapy (SRS-SBRT)
Interstitial internal radiation, utilizing
Low dose rate permanent implants
High dose rate temporary implants
"We are the only cancer center in Panama City to integrate chemotherapy and radiation treatment services for cancer patients," said Syed Tariq Mahmood, M.D., oncologist and president of the FCA North Florida Division. "It took years of hard work to get here, but we think our patients will see the results of this work in improved quality of treatment and safety of care."
The new FCA radiation facility is located at 2100 State Avenue, Panama City, Florida 32405. For more information or to make an appointment, please call 850-763-0036.
Return to News